The Sawrie Orthodontics team's top priority is to provide our patients with the highest quality orthodontic care in a family-based, gentle and comfortable environment. We are at the forefront in orthodontic technical advances, utilizing the most efficient and cosmetically attractive appliances available.
---
Sawrie Orthodontics Attends
"The Forum – Ormco's Achieving Beyond Clinical Excellence"
Conference in 
San Antonio, Texas
Last month, Dr. Daniel and Dr. Lucy accompanied several of our Sawrie staff members to attend The Forum in San Antonio, Texas.

The Forum focused on providing specific and impactful solutions and opportunities to build and grow our orthodontic skills and practice.

From interactive and hands-on experiences with exciting new products and digital technologies, to the delivery of superior clinical results and patient experiences, the program is packed with unique content to help us provide the best care possible to our patients!

Our staff joined over 1,000 progressive orthodontic professionals in attendance by engaging in educational collaborations.

Our staff explored complex technologies, new approaches and newly unveiled solutions with the experts, while discovering the cutting-edge of what's available today. Additionally, they learned about the disruptive technologies that will raise the bar for patient care and practice efficiencies in the future.

"This was an amazing learning experience…and we had so much fun! We were able to see new technology and ideas on our Damon braces that we can incorporate into our practice. Attending the Damon Forum helps us to specialize our techniques and improve our services. The Forum provided us with new approaches on customer service and we are excited to implement these at Sawrie Orthodontics," explains "Ms. Cathy" Forrester.

They were also able to have a little Texas-style fun with visiting local tourist attractions and attending The Forum's 8th annual charity event benefiting Smile for a Lifetime Foundation.

Hosted at a 1,000-acre working cattle ranch, they took a dive into Texas culture - all while supporting a national charity that provides quality orthodontic treatment for deserving and under-served individuals.

It sure looks like a fun trip!

 

 




---

Feeling Lucky?!?! 

Stop by the office and guess how many Lucky Charms Marshmallows are in the vase!



You could win a $25 Amazon Gift Card!

 

---

 

Join us on Social Media!

We love sharing our patient success stories, as well as promoting some awesome contests and fun giveaways! 

#emBRACEtheJEEP

Beep, Beep- Have you seen the new Sawrie Jeep?! If so, you could be a winner!! Join us for a fun contest on the Sawrie Orthodontics Facebook and Instagram pages.

If you spot the new Sawrie Jeep around town or even at our office, snap a pic (not while driving please!) & post it with the hashtag #emBRACEtheJEEP. 

You could be the LUCKY WINNER of a $100 Target gift card!!! #SawrieOrthodontics #emBRACEtheJEEP 

 

Speaking of LUCKY social media contest winners... Meet 9 year old Gage Bloodworth!!

Gage's mom, Holly Bloodworth, entered in our Facebook Contest for a 

FREE BRACES giveaway

and Gage was chosen as the

lucky winner

!!!

 

When Gage was chosen as our winner, Ms. Cathy called to share the exciting news! Holly explained to our staff that she thought she was being prank called, but then recognized Ms. Cathy's voice and knew it was true! Their family is so very excited and thankful for this amazing gift from Dr. Daniel and the team at Sawrie Orthodontics. 

Gage will be ready for braces very soon and we're excited to treat him to a new, beautiful smile!

Talk about some good luck!! 

 

 

---

Recipe Corner - Have a little fun in the kitchen! 

 
 

 Let the luck of the Irish inspire you in the kitchen this month! Why not experiment with some fun green food options to treat your loved ones with?! Healthy or sweet, you can easily create a delicious St. Paddy's Day treat that will have your loved one feeling oh so lucky to eat! 

So, grab some green foods and enjoy a few of the "safe for braces" recipes below.

May the luck of the Irish be with you in the kitchen! 

 

 

 
 

 

 

Shamrock Fudge

Ingredients 

1 jar vanilla frosting
12 oz. white chocolate candy melts
green gel coloring
1 teaspoon peppermint extract
sprinkles

Instructions 

Line an 8x8 pan with foil.
Microwave the frosting on 50% power until slightly runny (about 30-40 seconds). Stir in peppermint extract and gel coloring. You want to make the frosting a little darker than you want the fudge as the chocolate melts will lighten it. 
Microwave the candy melts on 50% power stirring every 30 seconds until almost completely melted. 
Gently stir the melts and the frosting together and spread into prepared pan. Add sprinkles if desired. Refrigerate 30 minutes and cut into squares or with a shamrock cookie cutter!
In this size pan, the fudge pieces are about 5/8" thick. If you'd like a thicker fudge, you can double the recipe.




Courtesy of: 

https://www.spendwithpennies.com/4-ingredient-shamrock-shake-fudge/#comments

 

 

Recipe Notes

This serves 2-4 - depends what you're using it for. It could easily serve 4 if this is just one of many appetizers at a party, for example. Avocado pesto is versatile... you can use it as a spread as I did, or put it into a sandwich as a condiment, dip crackers/pita/veggies in, or even serve it with pasta.
As this condiment contains avocado, it's best eaten on day 1 or the next day as the avocado will brown.

Courtesy of: 

Avocado Pesto

Avocado pesto is a versatile vegan condiment that is great on bread or crackers or with pasta. Avocado, chives, basil, garlic, olive oil, lime and pine nuts are whipped together to create this tasty spread.

Ingredients

Pesto:

1 avocado
Juice of 1 lime
1/2 cup pine nuts
10 large leaves basil
1 tablespoon chives chopped (or to taste)
2-3 cloves garlic
Salt & pepper to taste
1/3 cup olive oil

For serving:

Baguette or other bread
Red pepper flakes (optional)
Drizzle of olive oil (optional)

Instructions

Add all pesto ingredients except for olive oil to a food processor. Blend on high and slowly drizzle the olive oil in. Once all the oil is in, stop the machine and scrape down the sides. Blend further until the mixture is smooth and consistent.
Serve immediately (or chill for 30 minutes) on fresh bread or crackers. Sprinkle red pepper flakes and drizzle olive oil over top if desired.

 

---

 

Sawrie Superstars 




Check out our Hall of Fame Patient Spotlights!

 
 

   

Iryona Brooks

When I grow up, I want to be a pediatric surgeon. 

My favorite hobby is eating. 

My favorite subject is math. 

One fun thing people don't know about me: I'm fun! 

I am 11 years old. 

I am in the 6th grade at East Hamilton Middle High School. 

 Iryona Brooks 

  

 

 

 

 

Drew Wyatt

When I grow up, I want to be a Major League Baseball player. 

My favorite hobby is playing baseball, basketball and football. 

My favorite subject is social studies. 

One fun thing people don't know about me is that my nickname on the back of my baseball jersey is "Captain D", but I don't eat seafood. 

I am 9 years old. 

I am in the 3rd grade at Nolan Elementary School. 

Drew Wyatt

  

 

 

---

 

 We are so LUCKY to have such talented patients!

Meet our patient- Maryl Ford! Maryl is a super-talented baker and horseback rider. Maryl also follows her two older sisters' footsteps as Sawrie Orthodontics patients. We are so happy to have Maryl as our patient!  

Sawrie Orthodontics recently ordered cupcakes for Valentine's Day treats. We were so excited to support Maryl and must say, she makes amazing baked goods!! Yummy! 

Chocolate Raspberry Truffle Cupcakes

- Maryl's Favorite! 

I started baking about three years ago because I wanted to raise money to support my love of horses and horseback riding. I started selling the cupcakes from a cupcake stand in my front yard until customers started to request larger orders in advance.  

I bake the cupcakes as often as I have an order. I have cooked for birthday parties, wedding and baby showers, valentine's day, family get-togethers and summer celebrations. If the order is really large, my family sometimes helps. They also help dispose of any leftovers :) I cook in general pretty often. I make homemade pancakes and cinnamon rolls, as well as egg sandwiches for breakfast. I also like to create my own concoctions of vegetable and fruit juices with our juicer.  




 

 

 

I have used some of the proceeds to pay for riding lessons and regular access to horses.

I now also help clean a barn to
offset some of the cost as well.  

Maryl Ford

When I grow up I would like to be equine veterinarian.

My favorite hobby is riding horses.

My favorite subject is English. I like creative writing and I like my teacher.

One thing people don't know about me is I like tumbling in gymnastics. I also like singing and play the guitar and the violin.

I am 12 years old.

I am in the 6th grade at Baylor School.

 

 

---

 

Silly Orthodontic Myth Busters

 
 
 
 

 

If you are traveling through an airport, your braces will set off the security metal detector. 

 
 

 
 

 

 
 

 

Don't be scared during security checkpoints at the airport. Braces will not set off the metal detector! Sawrie Orthodontics uses the Damon System metal braces, which are available in two materials- stainless steel or polycarbonate for exceptional strength and durability. The Damon Clear braces are composed of ceramic for durability and enhanced aesthetics. Travel away while you enjoy a path to a beautiful new smile!!

 
---
Share a Smile, Refer a Friend!
Stop by the Gunbarrel or Signal office for a "Refer a Friend" card! Give the card to a friend and they will receive $250 off their orthodontic treatment. As a special thank you for referring your friend, you will also receive a $50 Amazon Gift Card when they begin treatment! 
Thank you for showing your confidence in us through the referral of your friends! 
---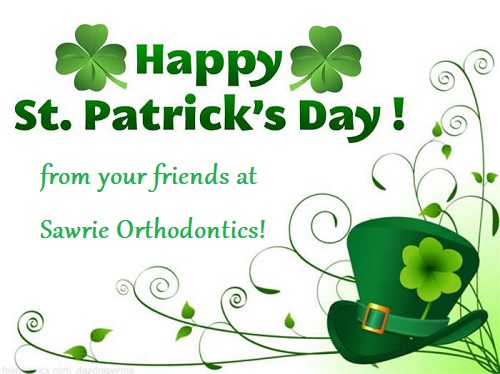 ---
Established in 1970, Sawrie Orthodontics was started by Dr. Stephen Sawrie. Today, led by Board Certified Orthodontist, Dr. Daniel Sawrie, DDS, the Sawrie Orthodontics team continues the family tradition of top-notch orthodontic care for families in the Chattanooga area. We offer a wide range of treatment options to meet the needs and desires of each patient. Call 423-624-8217 to schedule a free evaluation!
Click to send a Referral Email
Email Us
Visit our Website
---
| Sawrie Orthodontics |
| 1612 Gunbarrel Rd, Suite 100 Chattanooga, Tennessee 37421 |
| 1229 Taft Hwy Signal Mountain, Tennessee 37377 
sawrieapptremind@gmail.com | 423-624-8217