Welcome !
LANAP !
Less pain. Less Discomfort.
The laser alternative to gum surgery!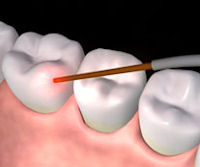 No Scalpels. No stitches. The new Treatment for gun Disease.
     Now there's a new, less traumatic treatment for periodontal disease. LANAP (laser assisted new attachment procedure) utilizes safe and proven laser technology to gently remove harmful bacteria and diseased tissue from the gums.
     As with periodontal surgery, this removal of bacteria allows the body to heal naturally so the gun pockets improveand the teeth become more stable . But there's less pain. And,since there are no stiches, minimal bleeding, and a quicker ,much easier recovery.
   Patient Benefits:
Less Pain
Faster healing 
Reduce risk of infection
Decreased sensitivity
Less time in the dental chair
Less bleeding
Less post-treatment discomfort
Little to no gum recession
  Is LANAP right for you?
If your dentist has told you that you suffer from periodontal disease and need gum surgery, you can take advantage of the many benefits offered by LANAP!
 Ask your dentist if your a candidate
LANAP:
A procedure that brings your entire mouth back to health: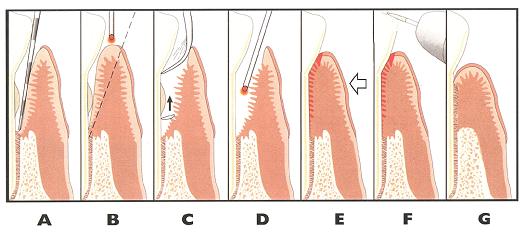 A. Perio probe indicates excessive pocket depth
B. Laser light removes bacteria and diseased tissue
C. Ultrasonic scaler and special hand instuments are used to remove root tartar
D.Laser finished cleanign pocke and aids in sealing the pocket closed so new gums cannot enter
E. Bite is adjusted
F. New attachment and bone growth to clean toor surface occurs. Healing occurs.
G. Bone regeneration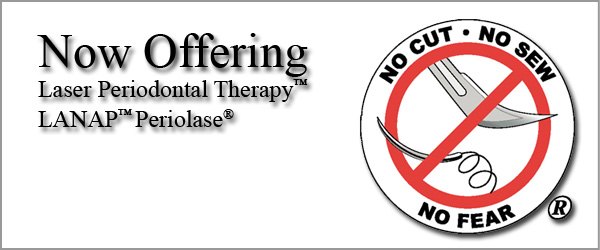 "We all think that cholesterol is important to heart disease. The helath of your gums is more important predictor of whether you have a heat attack or not."
Mehmet C Oz MD, FACS
(Director ,cardiovascaular institue Columbia University Medical Center, New York ,NY
ABC News, Good Morning America 12-15-08)
Your gums.Your health.
The health of your mouth, teeth and gums has a direct impact on your overall health. Recent reports have linked gum disease with:
Heart disease

Stroke

Diabetes

Pregnancy problems

An increased risk of pancreatic cancer by 64%

Fact is, the bacteria that causes gums to become inflamed can travel throughout the body, including to cells is the coronary arteries.
The only FDA approved Laser-based treatment for gum disease.
LANAP is the only procedure that actually helps the bone supporting your teeth to regenerate. This laser -based approach to treating gum  disease makes it easier for you to return to your gums to health and the process is far more comfortable than gum surgery.
With LANAP, there is less pain, less bleeding, less swelling, less tissue removed, less down time and less recovery time.Remember, controlling periodontal disease makes it impossible to save and restore to health teeth that may otherwise have to be extracted. Most importantly, LANAP  restores your whole mouth to health ,reducing your body's susceptibility to the serious health problems associated with gum disease.
(credited : LANAP) 
For your better health!
Tuckerton Dental