November 2019

The Sawrie Orthodontics team's top priority is to provide patients with the highest quality orthodontic care in a family-based, gentle environment. We are at the forefront in orthodontic technical advances, utilizing the most efficient and cosmetically attractive appliances available. 
---
The Sawrie Orthodontics Staff is Thankful! 
We are SO thankful for our patients and their families!! We appreciate your continued support and trust in our practice and will do everything possible to ensure you are happy with your smile! We hope you have a blessed Thanksgiving season with your loved ones. 
Here are a few additional things we are thankful for this November!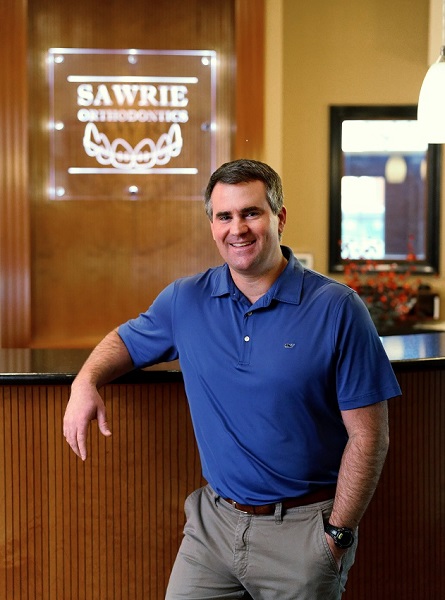 Dr. Daniel Sawrie, DDS, Board Certified Orthodontist
I am most thankful for my wife and children. I am extremely fortunate to be married to the most thoughtful and giving person in the world who also happens to be my best friend!  
Cathy Forrester

Treatment Coordinator

 

 

I'm very thankful for my family that God has blessed me with.

Stephanie Middlebrooks

Patient Care Coordinator

 

 

I am thankful for being blessed with a great family.

Lori Otting

Clinical Supervisor

 

 

I am thankful for my family, our health, and our church. 

Katherine Hawkins

Central Sterilization Coordinator

 

I'm most thankful for my family, my work family and that the Lord watches over me everyday. 

Jana Townson

Clinical Technician

 

 

I am thankful for my husband and our kiddos.

Nikki Satterfield

Clinical Technician

 

 

I am thankful for time with my family. It's one of the few times a year that we can all get together. 

 

Skyler Heyworth

Clinical Technician

 

 

I am thankful for my family, friends, and fur babies.
---
 Join us on Social Media! 
We love sharing our patient success stories, as well as promoting some awesome contests and fun giveaways! 
Congratulations to the winners of our Rotten Witches Teeth Halloween Contest!!
Kenzie Cooper won at the Gunbarrel office location and Margaret Ray (pictured below) won at the Signal Mountain office location!! Margaret guessed the exact amount of candy corn- 316! We hope you enjoy your gift cards to Learning Express and Mountain Top Toy Stores!!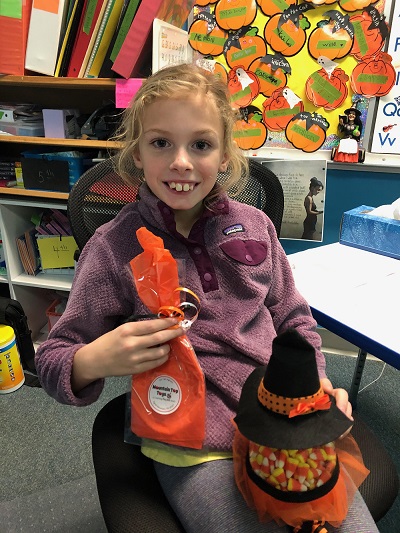 Get creative!! We're looking for someone to design the new Sawrie Orthodontics t-shirts!! 
It could be you - send in your best artwork to Lindsay.sawrieortho@gmail.com!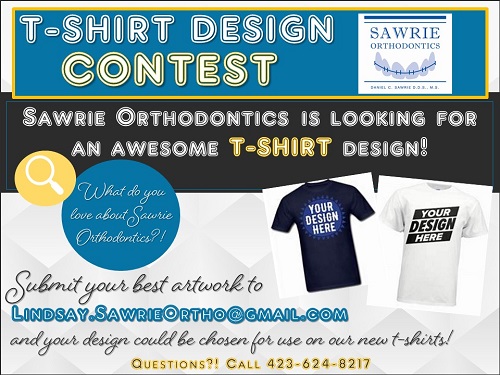 ---
 It's that wonderful time of the year when food is a main focus and we can celebrate holidays around the table with our loved ones!! We hope you enjoy a delicious Thanksgiving meal and give some of the yummy braces-friendly recipes a try this holiday season!! 
A classic, easy cranberry sauce recipe for your turkey centerpiece. Store bought tastes nothing like this homemade version! The touch of lemon zest is what makes that little extra difference. Adjust the sweetness to your taste. This to me has a nice balance of sweet / tart, without being overly sweet like jam. Easy to adjust thickness with more water so don't worry if it gets too thick when it cools. Makes almost 3 cups.

Homemade Cranberry Sauce

Recipe Courtesy of: Nagi

https://www.recipetineats.com/easy-classic-cranberry-sauce/

I tried store bought cranberry sauce once many years ago and it turned me right off it. It just tasted like….jam. I may as well have slathered my turkey with strawberry jam!

It wasn't until I started to take on the roast turkey centerpiece for holiday gatherings that I decided to give Cranberry Sauce another go…and well, well, well, what do you know? Homemade cranberry sauce is sensational! It's nothing like store bought. It tastes (shock horror) like cranberries!

16 oz 

bag frozen cranberries

 

(or fresh)

1

 

cup

 

white sugar

1/3

 

cup

 

water

1/8

 

tsp

 

lemon zest

Pinch of salt

Tip the cranberries in a saucepan set over medium low heat. Remove a heaped 1/2 cup of cranberries and set aside.

Add remaining ingredients. Cook for 5 minutes or until sugar is dissolved.

Increase heat to medium high. Cook for 10 minutes or until most of the cranberries have burst and the liquid is syrupy.

Reduce heat to low, stir through reserved cranberries. Adjust sweetness to your taste with more sugar and add a pinch of salt. 

Allow to cool and store in the fridge for up to 3 weeks. The sauce will continue to thicken as it cools. Best served at room temperature or warm. Serve with a juicy Roast Turkey - or Slow Cooker Turkey Breast or Roasted Breast.

Applesauce Sweet Potatoes

Recipe Courtesy of: Taste of Home

https://www.tasteofhome.com/recipes/applesauce-sweet-potatoes/

3 pounds sweet potatoes (about 5 medium), peeled and sliced
1-1/2 cups unsweetened applesauce
2/3 cup packed brown sugar
3 tablespoons butter, melted
1 teaspoon ground cinnamon
1/2 cup glazed pecans, chopped, optional

Place sweet potatoes in a 4-qt. slow cooker. In a small bowl, mix applesauce, brown sugar, melted butter and cinnamon; pour over potatoes.
Cook, covered, on low 4-5 hours or until potatoes are tender. If desired, sprinkle with pecans before serving. Serve with a slotted spoon.

 
 

 

Garlic and Herb Roasted Turkey

Recipe Courtesy of: Delish

https://www.delish.com/cooking/recipe-ideas/recipes/a44466/garlic-and-herb-roasted-turkey/

1 

12-14 lb. turkey, thawed (if frozen)

2 

heads garlic, halved horizontally through the equator

4 

small onions, quartered

2 

large carrots, cut into 2-in. pieces

2 

stalks celery, cut into 2-in. pieces

3/4 c. 

low-sodium chicken broth

Heat oven to 375 degrees F. Working on a baking sheet, remove the giblets and neck of the turkey from the cavities. Reserve the neck and discard the giblets. Using paper towels, pat the turkey dry. Stuff the garlic, lemon, half the onions and 10 sprigs thyme into the main cavity.
Tie the legs together with kitchen twine. Tuck the wing tips underneath the body (this will prevent them from burning). Rub the turkey with the oil and season with 1 teaspoon salt.
Place the turkey neck, carrots, celery, the remaining onions and the remaining thyme in a large roasting pan. Place a roasting rack in the pan and put the turkey on top of it.
Roast the turkey until a thermometer inserted into the thickest part of the thigh registers 165 degrees F, 21/2 to 3 hours. (Cover the bird loosely with foil if it browns too quickly, and add the broth to the pan if the vegetables begin to scorch.)
Carefully tilt the turkey to empty the juices from the cavity into the pan. Transfer the turkey to empty the juices from the cavity into the pan. Transfer the turkey to a carving board. Cover loosely with foil and let rest for at least 25 minutes. Reserve the pan and its contents for gravy. Carve the turkey and garnish with herbs as desired.

Pumpkin Gingersnap Ice Cream Pie

Recipe Courtesy of: Taste of Home

https://www.tasteofhome.com/recipes/pumpkin-gingersnap-ice-cream-pie/

1-1/2 cups crushed gingersnap cookies (about 30 cookies)
2 tablespoons ground walnuts
1 tablespoon canola oil

FILLING:
4 cups reduced-fat vanilla ice cream, softened if necessary
1 cup canned pumpkin pie filling
Pumpkin pie spice

 

Preheat oven to 350°. In a small bowl, mix crushed cookies and walnuts; stir in oil. Press onto bottom and up sides of an ungreased 9-in. pie plate. Bake 8-10 minutes or until set. Cool completely on a wire rack.
In a large bowl, mix ice cream and pie filling until blended. Spread into prepared crust; sprinkle with pie spice. Freeze, covered, 8 hours or overnight.

 

 
---
 Orthodontic Myth Busters
MYTH:

 

 

Office visits are not necessary to get straight teeth.

 

FACT:

 

No Visits = No Monitoring = No Good

The reality is that the health of your gums, teeth and jaws cannot be monitored during treatment if you are never seen by a qualified orthodontist. Even the most carefully planned treatments need to be closely monitored to ensure that your treatment stays on course. These visits must be completed by a trained orthodontist should a problem arise or a mid-course treatment correction be needed. The good news is that today's technology has allowed patients to extend intervals between appointments to as long as 8 to 10 weeks.

 
 Info Courtesy of the American Association of Orthodontists
---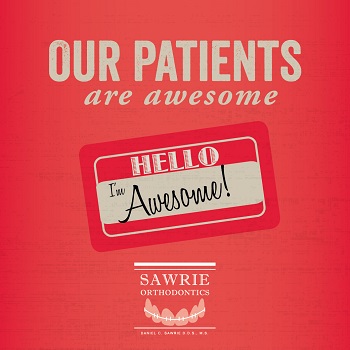 Do you know someone who would like to be featured as one of our Sawrie Superstars?!? 


If so, email Lindsay.SawrieOrtho@gmail.com
---
Happy Thanksgiving 
In this season of gratitude, we would like to express our appreciation for your trust in our orthodontic services. It's patients like you who let us do what we love every day. Thank you for the part you play in the success of our practice.

Whether you are one of the 3.5 million spectators in New York, or one of the 50 million television viewers, watching the Macy's Thanksgiving Day Parade is a tradition in many households. The parade debuted in 1924, when the department store wanted to host an event to showcase the opening of their 1 million square foot store. The first parade marched over six miles, and the floats featured characters from favorite nursery rhymes, and of course, Santa Claus in his sleigh. Today, the parade has shortened its route, but expanded its marchers to include helium balloons, marching bands, celebrities and cheerleaders. However, Santa Claus still holds his iconic spot in the lineup, ringing in the Christmas season at the end of the parade.
We hope this Thanksgiving season finds you happy and healthy.
Thank you for showing your confidence in us through the referral of your family and friends!
Established in 1970, Sawrie Orthodontics was started by Dr. Stephen Sawrie. Today, led by Board Certified Orthodontist, Dr. Daniel Sawrie, DDS, the Sawrie Orthodontics team continues the family tradition of top-notch orthodontic care for families in the Chattanooga area. We offer a wide range of treatment options to meet the needs and desires of each patient.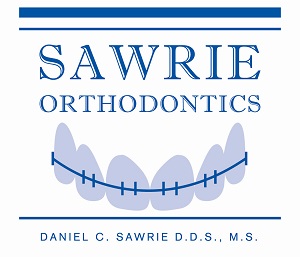 SAWRIE ORTHODONTICS

| 1612 Gunbarrel Road, Suite 100 - Chattanooga, TN 37421 |
| 1229 Taft Highway - Signal Mountain, TN 37377 |
| sawrieapptremind@gmail.com | 423-624-8217 |