Sawrie Orthodontics

February 2019 Newsletter

 
 

The Sawrie Orthodontics team's top priority is to provide our patients with the highest quality orthodontic care in a family-based, gentle and comfortable environment. We are at the forefront in orthodontic technical advances, utilizing the most efficient and cosmetically attractive appliances available.
 

 
 
 
 
 

---

| | | | | |
| --- | --- | --- | --- | --- |
|   | Love is in the air- especially at Sawrie Orthodontics! Check out these awesome couples who all have gorgeous smiles thanks to Dr. Daniel and the Sawrie Orthodontics staff!  |   |   |   |

 
 



The Garrisons

Christie and Chadrick Garrison got their braces off just in time to enjoy their beautiful new smiles during the holidays! The Garrisons are such a cute couple and we loved having them as our patients!

 

We want to congratulate these two wonderful patients of ours who are newlyweds. Joshua and Heather Knight were married on November 17th and we want to wish them both a lifetime of good health, happiness and lots of smiles! 

The Knights

 
---
 
 

 

Join us on Social Media! You can find us on Facebook at Sawrie Orthodontics and on Instagram at sawrieorthodontics. We love sharing our patient success stories, as well as promoting some awesome contests and giveaways, so join the fun today! 

 

#emBRACEtheJEEP

Beep, Beep- Have you seen the new Sawrie Jeep?! If so, you could be a winner!! Join us for a fun contest on the Sawrie Orthodontics Facebook and Instagram pages.

If you spot the new Sawrie Jeep around town or even at our office, snap a pic (not while driving please!) & post it with the hashtag #emBRACEtheJEEP - you could be the lucky winner of a $100 Target gift card!!! #SawrieOrthodontics #emBRACEtheJEEP 

 

 
 
---
 The Sawrie Orthodontics Difference
Experience what patients LOVE about our Damon braces!!

 

 

 
 
 

Damon braces, like traditional braces, are a very effective treatment for correcting the alignment of your teeth. This treatment also offers several other significant benefits.

| | |
| --- | --- |
| •  | The sliding mechanism tightens your wires automatically. This allows for freer movement of your teeth.  |
| •  | Because Damon braces are self-ligating, your teeth move faster, which can help to reduce your overall treatment time. In many cases, patient's complete treatment with Damon braces up to 6 months faster. |
| •  | The wires place less pressure on your teeth and your periodontal ligaments. This helps to make treatment much more comfortable than treatment with traditional braces. |
| •  | Without the need for manual tightening of the wires, you need fewer office visits throughout the duration of your treatment. |
| •  | Less friction means less bone erosion. |
| •  | Maintaining oral hygiene is easier. This aids in reducing your risk of developing tooth decay and cavities. Damon braces also reduce your risk for decalcification or small white scars that mar the appearance of your teeth. |
| •  | Fewer aesthetic issues. The brackets and wires of Damon braces are metal, there are no elastic O-rings. This helps to make them more discreet. We also offer Damon Clear, which uses ceramic or clear brackets, further reducing visibility. |
|   | Damon braces provide you with a more comfortable alternative to the traditional style of metal braces, making your treatment a more pleasant one. For more information on Damon braces, and to find out if they are right for you, call Sawrie Orthodontics today at 423-624-8217. |

 
---
Recipe Corner- Have a little fun in the kitchen! 
Cookies courtesy of CakeCentral.com! 
When Valentine's Day arrives, we all dream of having a few sweet treats. Giving decadent gifts of chocolates, candy hearts, suckers and loads of cookies are ways we express our love to friends and family. School and work parties bring so many sweet treats our way that we're quick to forget about those New Year Resolutions in a heart-beat! (Calories don't count on holidays anyways, right?!)
As you prepare to share your favorite Valentine's treat, remember there are plenty of great options that will be easy on teeth with braces. If you can be creative with sweet treats or even (gasp!) offer healthy treats, your loved ones will thank you for your thoughtfulness!
A heart-shaped cookie cutter can help you create so many Valentine's inspired delicacies. Heart-shaped brownies, sandwiches, pancakes and French toast are a few ways to show the love. You can also create healthy fruit smoothies, whole wheat strawberry muffins, fruit kabobs or heart-shaped toast with cream cheese and berries. Soft pastas and veggies are always a great option too!
But if you're looking to impress, try this fun recipe from LaurenConrad.com. Who wouldn't love to bite into a cupcake and find a heart inside? Enjoy this treat without worrying about damaging your braces!! Just be sure to brush and floss well after all of the sugary treats!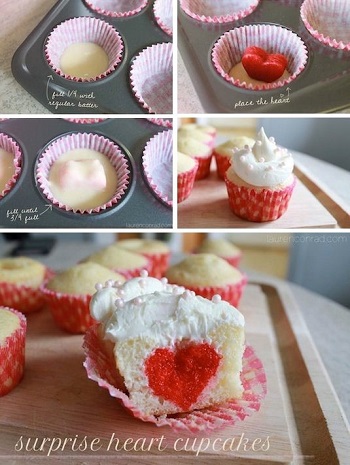 Surprise Inside Heart Cupcakes
Prepare Vanilla Cupcake batter.
Divide batter into two parts: Put half the batter into a large measuring cup with a spout (to make pouring the batter into the cupcake pan easier) or a medium bowl. Place the other half into a separate bowl and add red food coloring until you reach your desired color. (Tip: I made both pink and red versions, but the red turned out much better since there was more contrast between the two cakes… Lesson learned? Make sure your color is saturated and bold! Light colors will not turn out very well.)
Place cupcake liners into cupcake pan.
Pre-heat oven to 350 degrees.
Add about 2 tablespoons of the regular batter to each cupcake tin.
Meanwhile, pour red batter into a non-stick baking pan so that there is a thin layer of batter (about half an inch is good).
Bake red batter for about 15 to 20 minutes until cooked through. (Tip: It's okay to under-bake them a bit since they will technically be twice-baked.)
Allow the red cake to cool completely. Once cooled completely, use a small heart-shaped cookie cutter to cut out mini hearts.
Place hearts, vertically and face forward into the cupcake pan as shown in the image above. (Tip: It's important to keep them all facing the same direction so that when you finally cut them open, you can see the pretty heart hidden inside.)
Once all hearts have been placed, fill the cupcake pan with regular batter until ¾ full.
Bake for approximately 20 minutes.
Once the cupcakes have cooked, remove them from the muffin pan promptly and allow them to cool for at least 15 minutes. To keep the cupcakes moist, I put a piece of aluminum foil over them while they cooled.
Once they were cooled, I frosted them with freshly made buttercream frosting and topped them off with pearly sprinkles that I found at a local craft store. While they might seem involved, these were great fun to make and they were even more fun to eat. Whip these up for your friends or your Valentine and be sure to tell them that there's a surprise awaiting them inside…
Recipe Courtesy of:  https://laurenconrad.com/blog/2013/02/sweet-tooth-valentine-s-day-heart-baked-inside-cupcakes-recipe/
---
Sawrie Superstars 


Check out our Hall of Fame Patient Spotlights!

"We all love Dr. Sawrie and all of the staff. ❤️ They all go above and beyond, and as a mom that is something I am truly thankful for! Thank you for all that you do! You all are amazing and I'd never take my boys anywhere else."


– Kristy Paarman,

Maxwell & Ayden's Mom

Maxwell Paarman

When I grow up, I'd like to be a professional soccer player.

My favorite hobby is soccer.

My favorite subject is Social Studies.

One fun thing people don't know about me is that I was born in Michigan and moved to Tennessee when I was one year old.

I am in the 3rd Grade at Wallace A. Smith Elementary.

 Maxwell Paarman

Ayden Paarman

Ayden Paarman

When I grow up, I'd like to work in the field of racing and designing cars.

My favorite hobby is soccer.

My favorite subject is Science.

One fun thing people don't know about me is that I would like to attend Michigan State University and play on their soccer team.

I am in the 8th Grade at Hunter Middle School.
---
Silly Orthodontic Myth Busters
| | |
| --- | --- |
| MYTH: | FACT: |
| If two people who have braces kiss, then their braces will lock together and they will become stuck.  | Braces are much smaller and sleeker than they used to be, so it would be nearly impossible to lock braces and become stuck together while kissing. For our adult patients, feel free to pucker up and smooch away! |
---
Share a Smile, Refer a Friend!
Stop by the Gunbarrel or Signal office for a "Refer a Friend" card! Give the card to a friend and they will receive $250 off their orthodontic treatment. As a special thank you for referring your friend, you will also receive a $50 Amazon Gift Card when they begin treatment! Thank you for showing your confidence in us through the referral of your friends! 
---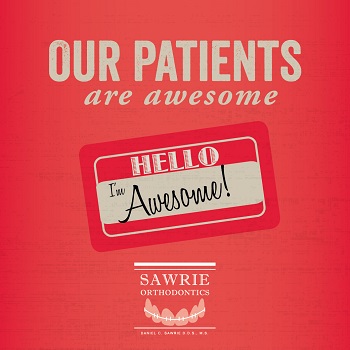 ---
Established in 1970, Sawrie Orthodontics was started by Dr. Stephen Sawrie. Today, led by Board Certified Orthodontist, Dr. Daniel Sawrie, DDS, the Sawrie Orthodontics team continues the family tradition of top-notch orthodontic care for families in the Chattanooga area. We offer a wide range of treatment options to meet the needs and desires of each patient. Call 423-624-8217 to schedule a free evaluation!
Click to send a Referral Email
Email Us
Visit our Website
---
| Sawrie Orthodontics |
| 1612 Gunbarrel Rd, Suite 100 Chattanooga, Tennessee 37421 |
| 1229 Taft Hwy Signal Mountain, Tennessee 37377 |
| sawrieapptremind@gmail.com | 423-624-8217 |