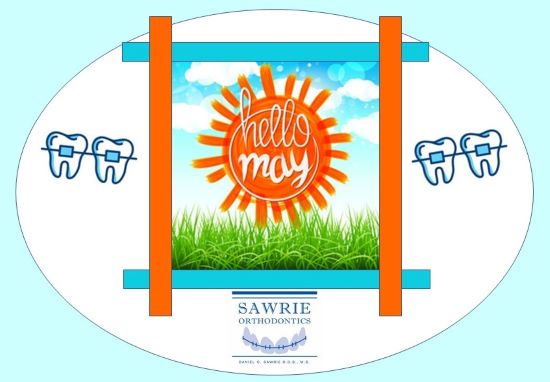 May 2019 Newsletter

The Sawrie Orthodontics team's top priority is to provide our patients with the highest quality orthodontic care in a family-based, gentle environment. We are at the forefront in orthodontic technical advances, utilizing the most efficient and cosmetically attractive appliances available. 
---
 
 

 

Clinical Supervisor, Lori Otting, Helps Bring Beautiful Smiles to Life! 

 

The first thing you may notice about Lori Otting is her radiant smile! About four years ago, Lori became a patient of Dr. Daniel's and her beautiful smile certainly grabs your attention when you see her. But, there is so much more that Lori brings to the Sawrie Orthodontics team...

 

Lori started working for Dr. Daniel in 2011 after finishing Dental Assistant school. For 8 years, Lori has worked hard to provide the best care possible to her patients. Lori's skills are vast and as the Clinical Supervisor, she provides an essential leadership role at Sawrie Orthodontics. Lori works on adjustments, training and does extensive work in the lab with retainers. 




 

Lori explains that Sawrie Orthodontics is special for many reasons, but our technology really sets us apart from other orthodontic practices. "We have a digital scanner that scans the teeth and gums exactly as they are, so there's no need for messy and uncomfortable impressions. We print a 3D model in the office and make retainers off of the accurate 3D model," Lori explained. 


While Lori is an expert at using the advanced technology, she also gives a level of care that fits perfectly with the family approach Sawrie Orthodontics prides themselves on providing.

"My favorite thing is getting to see people who don't like their smile come in and build confidence. Over time they love to see the progress and are so happy to have their end result be a beautiful smile. It's so great to connect with patients and really get to know them. We care about our patients so much and they become like family," Lori kindly explained. 

Lori described how great Dr. Daniel is at providing exceptional patient care. "There is no one who will care more about a patient than Dr. Daniel. He will do anything to make them happy with their experience and I try to have that same philosophy when I am treating patients."

Over the last 8 years, Lori has experienced how wonderful it is to work at Sawrie Orthodontics. "We are all friends who get together outside of work. We make work fun and know that we have such a supportive group who truly cares. Dr. Daniel is a great boss who cares a lot about us and our families," Lori explained. 

Lori is married to Mathew and they have two kids. Ellis is 14 years old and attends East Hamilton. Abby is 9 years old and attends East Brainerd Elementary. 

 

 

 

 

 

 

 

 

 

---

---

Join us on Social Media! 

We love sharing our patient success stories, as well as promoting some awesome contests and fun giveaways! 

 

Congratulations to CJ Shoenmann and his mother, Audrey, who won the $100 Target Gift Card for the #emBRACEtheJEEP contest! 

"My Teacher Rocks" Contest! 

You may have seen our end of the school year contest posted on social media or in the office. We're excited to honor a favorite teacher who has really made an impact in the life of his or her students! We asked you to tell us how your teacher has ROCKED your school year and why they deserve to win. The winning teacher will receive a gift basket of school supplies and a spa gift card! The class will also win a cookie cake!! 

Stay tuned for our winner to be announced!!! 

 

 

Sawrie Summer Vacation Contest!! 

 Be on the lookout for our newest chance to be a winner... the Sawrie Summer Vacay contest! Where, oh where are our patients traveling to this summer??! If you are on vacation, tag us in a post and you could be the big winner of a super awesome summer prize! More details will be posted on social media soon, so be on the lookout! 

#SawrieSummerVacay

 

---

 

Here are a few fun Cinco de Mayo recipes!
Throw in a little spice with fresh ingredients and these braces-friendly recipes will be a hit with the whole family! Just be cautious with crunchy chips...you can always sub those out with soft tortillas! Enjoy!!!

Avocado Salsa

Recipe Courtesy of: https://www.cookingclassy.com/avocado-salsa/ 

Ingredients:

6 medium roma tomatoes (20 oz), seeded and diced
1 cup chopped red onion, chopped
1 large or 2 small jalapeños, seeded and chopped (1/4 cup. Leave seeds if you like heat)
3 medium avocados, semi-firm but ripe, peeled, cored and diced
3 Tbsp olive oil
3 Tbsp fresh lime juice
1 clove garlic, finely minced
1/2 tsp salt (more or less to taste as desired)
1/4 tsp freshly ground black pepper
1/2 cup loosely packed cilantro leaves, chopped

Instructions:

Place red onion in a strainer or sieve and rinse under cool water to remove harsh bite. Drain well. Add to a mixing bowl along with diced tomatoes, jalapeños and avocados.
In a separate small mixing bowl whisk together olive oil, lime juice, garlic, salt and pepper until mixture is well blended. Pour mixture over avocado mixture, add cilantro then gently toss mixture to evenly coat. Serve with tortilla chips or over Mexican entrees.

Recipe Notes:

If you aren't a fan of spicy foods, you can definitely omit the jalapeños. And if you like it spicier you can leave in the seeds or even use hotter peppers like serrano or habanero. 

 

Does This Avocado Salsa Keep Well as Leftovers?

This fresh salsa will last for a couple days in the fridge if stored in an airtight container. Over time, the tomatoes will release more juice and the avocado will begin to brown. It'll be fine to eat, though!

Can I Add More Vegetables to This Salsa?

Of course! Grilled corn would be another great veggie to add to this avocado salsa. You can add any additional ingredients you'd like, but you may need to adjust the amount of dressing you add to this salsa.

 
 
 

Taco Pinwheels

 

If you're looking for a fun twist on tacos, give this recipe a try! Plus, it's great to make ahead of time for those busy evenings of Spring activities with the family! 

Recipe Courtesy of:
Quick Cooking May/June 2002 via www.tasteofhome.com/recipes/taco-pinwheels/

Ingredients:

4 ounces cream cheese, softened
3/4 cup Seasoned Taco Meat
1/4 cup finely shredded cheddar cheese
1/4 cup salsa
2 tablespoons mayonnaise
2 tablespoons chopped ripe olives
2 tablespoons finely chopped onion
5 flour tortillas (8 inches), room temperature
1/2 cup shredded lettuce
Additional salsa

Directions:

In a small bowl, beat the cream cheese until smooth. Stir in the taco meat, cheese, salsa, mayonnaise, olives and onion. Spread over tortillas. Sprinkle with lettuce; roll up tightly. Wrap in plastic and refrigerate for at least 1 hour.
Unwrap and cut into 1-in pieces. Serve with additional salsa.

 
 

Churro Cheesecake Bites

These little cheesecake bites have the great flavor of my favorite snack – the churro! The crust is made from Cinnamon Toast Crunch™ and the cheesecake itself is full of cinnamon.

Recipe Courtesy of: 

Buns In My Oven

https://www.tablespoon.com/recipes/churro-cheesecake-bites/aa708b5f-1a0a-48df-b232-b898125dca1b

 

Sweet cinnamon sugar and creamy cheesecake are BFFs in this perfect bite-sized dessert. Can we talk about that one time that I ate six mini cheesecakes all in a row and then I died? It was awesome. You guys are all well aware that mini food is not about portion control, right? The opposite is true, actually. It's just miniature so that you are able to go back for seconds and thirds and fourths and fifths, because "Oh, this is so small, another wouldn't hurt!" I'm not the only one who does this, right? 

Anyway, my husband has this thang for cheesecake. I personally had never even tried cheesecake until I met the man (a travesty, I know), but he has seriously turned me on to its silky, creamy, cheesy-but-not-like-CHEESY, seductive charms. Can't stop, won't stop.

Today I've married my favorite cereal with my husband's favorite dessert and made them mini so that we can all eat as many as we want without an ounce of guilt.

Now, if you're like me you'll want to let these cool completely. I hate warm cheesecake, but that's just a personal preference. Do what you think is best – devour now or devour later. Just be sure to add a dollop of whipped cream and stick a piece of cereal in there for good luck!

Ingredients:


3 cups Cinnamon Toast Crunch™ cereal 
1/4 cup butter, melted 
16 oz cream cheese, room temperature
1 cup granulated sugar
1/4 cup sour cream
3 large eggs, room temperature 
1 tablespoon ground cinnamon
1 teaspoon vanilla extract 
1/2 cup whipped cream, as desired

Directions: 

Preheat oven to 325°F. Add the cereal to a blender or food processor and pulse until you have fine crumbs. Alternately, place the cereal in a plastic bag, seal, and beat with a rolling pin to crush the cereal.
Add the cereal to a medium bowl and pour the melted butter over it. Stir to combine.
Line 2 12-count muffin tins with 16 paper or foil liners. Scoop one spoonful of the crust into each liner and press down with your fingers to form the crust.
Add the cream cheese to a large mixing bowl and beat until creamy and smooth. Add the remaining ingredients, except for the whipped cream, to the mixer and beat on medium speed until just combined. Pour the batter into the prepared muffin tins to just under the top of the liners.
Bake for 18-20 minutes or until just barely jiggly in the center. Cool completely before serving. Top with whipped cream and garnish with a piece of Cinnamon Toast Crunch™, if desired.

 
 
---
Orthodontic Myth Busters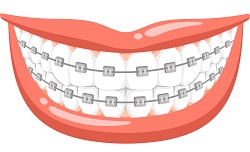 MYTH:

Mail-order teeth aligners are just as good as an orthodontist in person.  

FACT:

This is false!! A recent article in the New York Post highlights the many complications that can arise by having remote orthodontic care, including posterior open bites and misalignment, among other issues. 

 

To read the article and learn more, please click here. Call our office to schedule a free consultation and let our experts provide a positive experience to obtaining a beautiful and healthy smile! 
---
At Sawrie Orthodontics, we want to honor our heroes this Memorial Day. Thank you to all of the Veterans and their families who have served in the military. 
---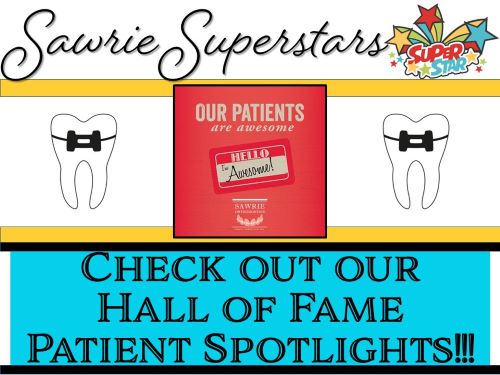 Madeline Nation

When I grow up, I would like to be a Marine Biologist.

My favorite hobby is playing piano and rollerblading.

My favorite subject is Bible.

One fun thing people don't know about me is that I love to paint.

I am in the 6th Grade at Silverdale Baptist Academy.

"Dr. Sawrie and his staff cared for Madeline during a very difficult time for her. The love, care, and attention he and his staff gave to my daughter... words will never be able to describe how grateful I am to each of them. She now has the most beautiful smile and we recommend Dr. Sawrie to everyone we know!"

- Tammy Nation, Madeline's mother. 
Daniel Warren

When I grow up, I would like to be whatever God lays upon my life. 

My favorite hobby is playing video games. 

My favorite subject is Science. 

One fun thing people don't know about me is that I love singing. 

I am in the 6th Grade at Ocoee Middle School.

"It's fun here and they are the best orthodontist I've been to!" 
- Daniel said of the staff at Sawrie Orthodontics. 

 
Joseph Warren

When I grow up, I would like to be an architect or engineer, maybe even an actor.

My favorite hobby is reading. 

My favorite subject is Math!!!

One fun thing people don't know about me is that I like to act. 

I am in the 4th Grade at Hopewell Elementary School in Cleveland, TN. 
Lexi Parker

When I grow up, I would like to be a teacher. 

My favorite hobbies are music and softball. 

My favorite subject is Math. 

One fun thing people don't know about me is that I tell jokes and make people laugh. 

I am in the 5th Grade at Cohutta Elementary School. 

"Everyone is nice and kind. They make me feel special."
- Lexi said of the staff at Sawrie Orthodontics.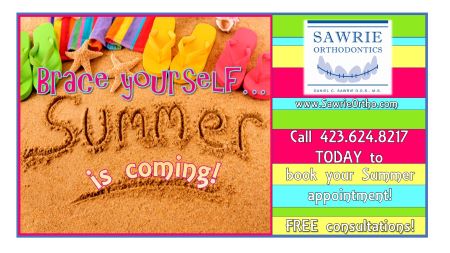 Don't wait to book your Summer appointment!! Call us today and get on the schedule for the Summer months! 
---
As we are in what is quite possibly one of the busiest months of the year, we want to take a minute to salute all of the awesome mamas out there! It's a little ironic that Mother's Day is during May, when ALL of the activities are full steam ahead! Adding one more holiday to the never-ending list of school parties and projects, homework, sporting events, recitals, teacher gifts and appointments (ahem, book your Summer Orthodontics appt. soon!) make it seem like one more to-do... but, hey, at least this is a holiday meant to honor us moms for being the ultimate coordinator of chaos!

We hope you get to prop your feet up, enjoy a delicious meal (that you didn't cook!) and maybe get a few special treats from those who love you most! Have a fabulous Mother's Day!! And if you looking for a little humor to know you're not alone during this crazy, busy season, check out Jen Hatmaker's article. Click here! 
---

Established in 1970, Sawrie Orthodontics was started by Dr. Stephen Sawrie. Today, led by Board Certified Orthodontist, Dr. Daniel Sawrie, DDS, the Sawrie Orthodontics team continues the family tradition of top-notch orthodontic care for families in the Chattanooga area. We offer a wide range of treatment options to meet the needs and desires of each patient. 

Call 423-624-8217 to schedule a free evaluation! 
 | SAWRIE ORTHODONTICS |

| 1612 Gunbarrel Road, Suite 100 Chattanooga, Tennessee 37421 |
| 1229 Taft Highway, Signal Mountain, Tennessee 37377 |
| sawrieapptremind@gmail.com | 423-624-8217 |