July 2019
The Sawrie Orthodontics team's top priority is to provide patients with the highest quality orthodontic care in a family-based, gentle environment. We are at the forefront in orthodontic technical advances, utilizing the most efficient and cosmetically attractive appliances available. 
---
Independence Day, often referred to as America's birthday, is a celebration of the signing of the Declaration of Independence in 1776. The Fourth of July is usually full of parades, picnics, concerts, and of course fireworks. From sparklers and fountains in the driveway to professional aerial shows, fireworks light up the night across the nation.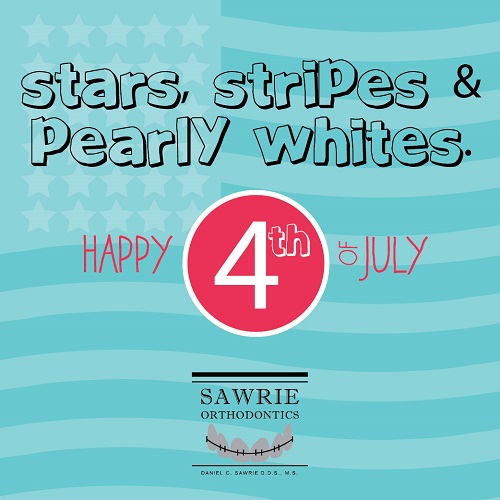 We thought it would be fun to share a few ways our staff likes to celebrate Independence Day! Bring on the fireworks, cookouts and lots of fun!!! 
Dr. Daniel: I love to spend time with my family! We really enjoy riding together in the Signal Mountain Town's 4th of July Parade. We're really looking forward to having the Sawrie Jeep to ride in this year! 

 

Stephanie Middlebrooks: My family loves to get together and hang out. We enjoy having a low country boil and shooting fireworks! 

Cathy Forrester: I just love to be with my family and eat together. It's so much fun to watch my grand kids with fireworks! We have a wonderful holiday together and I look forward to it every year! 

 

Jana Townson: My family enjoys going out on our boat. We love to watch the fireworks downtown on the river! 

Lori Otting: My family always gets a box at the Lookouts game every year. We love to spend time together and watch their awesome fireworks display after the game! 

 

Skylar Heyworth: My family gathers at my aunt and uncle's house every year for fireworks and a cookout! 

Brittany Little:

I love watching fireworks! It's so much fun to have a cookout and go swimming with family and friends! 

Nikki Satterfield: We love to grill out and have family time with lots of fireworks!

 

Kathy Hawkins: The 4th of July makes me think of watermelon, family time and fireworks! It's such a fun holiday! 
---
Join us on Social Media! 
We love sharing our patient success stories, as well as promoting some awesome contests and fun giveaways! 
 Sawrie Summer Vacation Contest! 
This is our newest chance for you to become a winner!!! The winner will receive a family four pack of tickets to Lake Winnie and SOAKya Amusement Park!!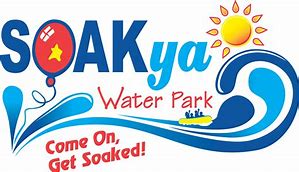 Simply tag us on Facebook in one of your vacation photos or use our hashtag #SawrieSummerVacay and you're entered to win! You can also email photos to lindsay.sawrieortho@gmail.com. 
Have a little fun and help us give away a fun, summer treat to a lucky winner!! 
Check out Dr. Daniel and his family on their recent family vacation!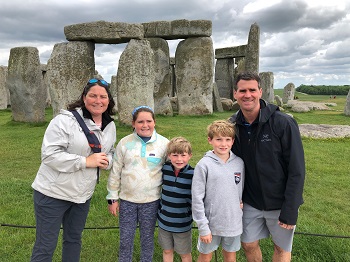 ---
It's time to celebrate Summer and the 4th of July with delicious food you can share at a cookout with family and friends! Remember that it's important to refrain from sticky and hard foods, as they may damage your braces. There are plenty of yummy foods that are braces friendly...try a few of the following recipes! 
Special Equipment: 12- by -17 1/2-inch wooden cutting board, pastry bag fitted with a small star tip

Cook the potatoes in generously salted boiling water until fork-tender but not falling apart, about 20 minutes. Drain well and allow to cool completely. Cut in half crosswise.
Fill a pastry bag, fitted with a small star tip, with the herbed cheese spread. Cut a piece of parchment large enough to fit a 12- by -17 1/2-inch wooden cutting board. Put a dab of cheese spread on the underside of each corner of the parchment to help it adhere to the cutting board. 
Pipe and spread a thin layer of cheese spread in to a 6 1/2- by -9 1/2-inch rectangle in the upper left corner of the parchment. Arrange the potatoes in rows, cut-side-up, on top of the cheese. Pipe the remaining cheese in between the potatoes to make stars for the flag. 
Drizzle the remaining empty portion of parchment with half of the oil then sprinkle all over with the basil. Starting from the top, make a line of tomato halves, cut-side-up, followed by a line of mozzarella halves, cut-side-down. Repeat with the remaining tomatoes and mozzarella. Drizzle everything with the remaining olive oil and sprinkle with salt.

American Flag Caprese Salad

 

Recipe Courtesy of Food Network Kitchen 

 

https://www.foodnetwork.com/recipes/food-network-kitchen/american-flag-caprese-salad-3663332

18 small purple potatoes (about 1 pound)

Kosher salt

1 pound herbed cheese spread, at room temperature 

1/4 cup extra-virgin olive oil

1/3 cup fresh basil leaves, roughly chopped

26 cherry tomatoes, halved (about 2 pounds) 

24 1-inch mozzarella balls in brine, drained well and halved 

 

Since this is a composed salad, you might have some ingredients left over, so toss them together and eat a bonus salad.

Put the lemon juice in a pitcher. Mix the sugar and 1 1/2 cups water to make a syrup, stirring well until the sugar dissolves. Add the sugar syrup to the lemon juice and top with 4 cups water. Taste to make sure it's sweet enough for you, then add the raspberries. (Keep in mind that the raspberries are tart, so be sure to sweeten enough!) Stir the lemonade, then chill in the fridge.
Fill mason jars with ice cubes and top them off with the lemonade.

Raspberry Lemonade



Recipe Courtesy of Ree Drummond, Food Network Magazine



https://www.foodnetwork.com/recipes/ree-drummond/raspberry-lemonade-recipe2-2269561

2 cups fresh lemon juice (from about 15 lemons)

1 1/2 cups sugar

1/2 10-ounce bag frozen raspberries

Vegetable oil, for the grill

3 pounds 80 percent lean ground beef

Kosher salt and freshly ground pepper

Tabasco sauce, to taste

6 kaiser rolls

6 tablespoons unsalted butter, softened

Assorted toppings, for serving (right)

 

"This burger bar was a hit! We like our burgers moist with deeper flavor, so aside from salt, pepper and the very important TABASCO (not to make it spicy, but to make flavors pop!), I also added egg, Worcestershire and breadcrumbs. I made them into sliders and served them with Hawaiian bread, so people could try different combinations--and they did! We also made very mild nacho cheese from scratch, which we kept warm in a crock pot, so we didn't have to worry about adding cheese on the grill. The burger bar was complemented by a potato salad, a green salad and corn on the cob.

Our guests loved coming back to try different concoctions!"

 

- Bessie R. from Food Network's Website  

Preheat a grill to medium high and oil the grates. Place the ground beef in a medium mixing bowl. Add 1 1/2 teaspoons salt and 3/4 teaspoon pepper. Add a few dashes of Tabasco sauce, then with your hands, mix the meat and seasoning well.
Form the meat into six 1-inch-thick patties and place on the grill. Cover and cook 3 minutes, then rotate, leaving them on the same side, and cook 3 more minutes. Flip and repeat on the other side.
Meanwhile, slice the rolls in half and spread each cut side with 1/2 tablespoon butter. Grill the rolls, cut-side down, until lightly toasted. Build the burgers with assorted toppings.
Sauteed Mushrooms
Melt 2 tablespoons butter in a large skillet over medium-high heat; add 1 pound sliced mushrooms, season with salt and pepper and cook 2 minutes. Add 2 to 3 tablespoons broth or wine and cook 6 to 8 more minutes.
Caramelized Onions
Melt 4 tablespoons butter in a skillet over low heat. Add 2 large sliced red onions and 3 to 4 tablespoons brown sugar. Cook until caramelized, tossing occasionally, about 20 minutes.
Pico de Gallo
Finely chop 5 plum tomatoes, 1/2 large onion, 3 jalapeno peppers and 1 bunch cilantro. Toss with the juice of 1/2 lime, and salt to taste.
Bacon
Cook over medium-high heat until crisp.

Trim and quarter the strawberries and set aside. Combine the blueberries, blackberries, 1/2 cup granulated sugar, 1/3 cup water, lemon zest, juice and salt in a medium saucepot. Bring to a simmer over medium heat and continue to cook, stirring occasionally, until the berries break down and the sauce thickens, 15 to 20 minutes. Remove from the heat and cool. 
Place the cream cheese, 1/4 cup cream, the remaining 1/4 cup granulated sugar and the vanilla extract in a large bowl and beat on medium speed until smooth and fluffy. In a second large bowl, whip the remaining cream until stiff peaks form. Fold about one-quarter of the whipped cream into the cream cheese mixture until lightened, and then fold in the remaining whipped cream. 
To assemble the trifle, rip or cut the angel food cake into 2-inch pieces. Place half the cake pieces in the bottom of a 12-to-14-cup trifle dish or large bowl. Top with about half the blueberry sauce, half the cream and half the quartered strawberries. Repeat the layers with the remaining cake, berry sauce, cream and strawberries. Cover with plastic wrap and chill 8 hours or overnight. Before serving either dust with confectioners' sugar or heat the apple jelly in the microwave for 25 seconds to loosen, and then brush over the strawberries.

Two 16-ounce containers strawberries

Two 6-ounce containers blueberries

One 6-ounce container blackberries

3/4 cup granulated sugar

1/2 teaspoon finely grated lemon zest

2 tablespoons fresh lemon juice

Pinch kosher salt

One 8-ounce package cream cheese

2 cups heavy cream

1/2 teaspoon pure vanilla extract

1 prepared angel food cake (about 12 ounces)

Confectioners' sugar, for garnish, optional

1 1/2 tablespoons apple jelly or apricot preserves, for garnish, optional

Funnel Cake

 

Recipe Courtesy of Alton Brown



https://www.foodnetwork.com/recipes/alton-brown/funnel-cake-recipe-1912956

1 cup water

3/4 stick butter (6 tablespoons)

1 tablespoon sugar

1/8 teaspoon salt

1 cup flour

1 cup eggs, about 4 large eggs and 2 whites

Vegetable oil, for frying

Powdered sugar, for topping

 

Directions

Boil water, butter, sugar, and salt together in a saucepan. Add flour and work it in until it is all incorporated and dough forms a ball. Transfer mixture to the bowl of a standing mixer and let cool for 3 to 4 minutes. With mixer lowest speed, add eggs, 1 at a time, making sure the first egg is completely incorporated before continuing. Once all eggs have been added and mixture is smooth, put dough in a piping bag fitted with a number 12 tip. Heat about 1 1/2 inches of oil in a heavy pan. Pipe dough into oil, making a free-form lattice pattern; cook until browned, flipping once. Remove cake from oil, drain on paper towels, and top with powdered sugar. Continue until all of the batter is used.
---
 Orthodontic Myth Busters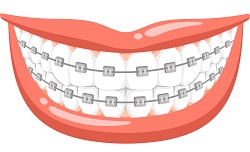 MYTH:

Orthodontic treatment is purely cosmetic! 

 

 

 

Info Courtesy of the American Association of Orthodontics

FACT:

There's much more to orthodontic treatment than meets the eye. An improved appearance is the most obvious result. But when teeth and jaws are in alignment, it means function (biting, chewing, speaking) is improved, too – a dual treatment benefit!

That beautiful smile is the outward sign of good oral health, and sets the stage for the patient's overall well-being. Orthodontists play a larger role in healthcare than is generally realized.

 
---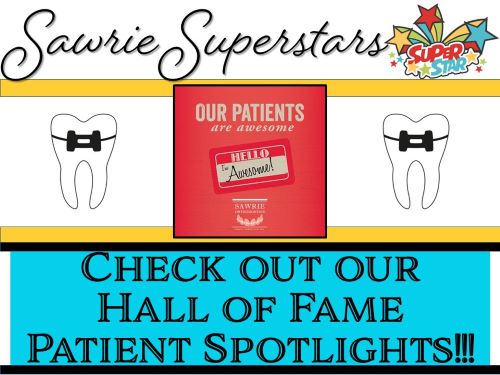 Brooklyn Lucas

When I grow up, I would like to be an architect. 

My favorite hobbies are volleyball and robotics. 

My favorite subject is Social Studies. 

I am in the 6th grade at Lookout Valley Middle High School.

"I love going here with all of the sweet people helping my smile." 

Zander Shepherd

When I grow up, I would like to be a graphic designer. 

My favorite hobbies are graphic design and playing the trumpet. 

My favorite subjects are History and Bible. 

One fun thing people don't know about me is that I built my own computer. 

I am in the 8th grade and am home-schooled. 

"Sawrie Orthodontics has been great!" 
---

Much like traditional metal braces, Damon braces use metal brackets and wires to correct the alignment of your teeth. However, instead of the wire attaching to the brackets using elastic O-rings, the wire is attached to Damon braces through small metal doors with sliding mechanisms. Where traditional metal braces need to be manually tightened, Damon braces are self-ligating or self-tightening. Because the braces are self-ligating, your teeth can move more freely, and they can often move faster. In fact, many patients with Damon braces complete treatment for up to 6 months faster. You typically require fewer office visits. Also, maintaining your oral hygiene is easier, reducing your risk for cavities and decalcification. Read more about Damon Braces!
Sawrie Orthodontics is proud to offer Damon Braces. Call us today to schedule your free evaluation and start your path to a beautiful, new smile!

Ask about our Summer special too- Get $500 off when you begin treatment in July or August!!!